3 Reasons Why Pole Kiosk Advertising Can Build your Brand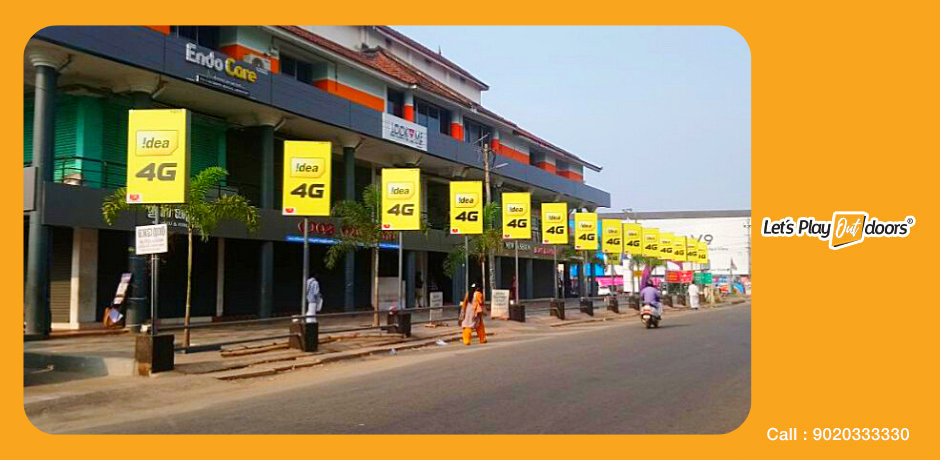 When we think of Out of Home advertisements, we think of big banners, billboards, colorful larger than life pictures, and usage of huge impactful message or taglines. It is no surprise that brands shell out big chunks of money on such advertisements in hopes of brand visibility and better reach.
Is it the only way of efficient and impressionable branding? Well, the answer is NO!
Pole Kiosk Branding is here to change the game for new and established businesses alike. Even your brand logo is enough for this type of branding to create a lasting effect on your target audience!
Before we understand why it is a rising choice amongst branding services, let us first understand what Pole Kiosk Branding actually means.
What is Pole Kiosk Branding?
Also known as Lamp Post Advertising, Pole Kiosk consists of small and compact display panels which are mounted on electric poles, consecutively in a row on main city roads. The back-to-back placement of the same advertisement forces the audience to view it repetitively. Hence, etching the mind of viewers with that advertisement and establishing brand value.
Often brands will have pole kiosks strategically mounted near their establishments or within their vicinity to grab the attention of local potential customers. While commuting to the office, or long-distance traveling through highways, or simply taking a walk through busy streets, pole kiosks are a common sight and pretty hard to miss. Although small in size, their strategic placements and bright color combinations not only attract audience views but also add to the cityscape. Interesting isn't it?
Still wondering why you should go ahead and choose Pole Kiosk Branding service for your own brand? Below are 3 promising reasons why you will benefit from it:
Small Size Yet Bigger Impact
Although electric pole kiosks are available in three sizes – small, medium and large. Yet, their sizes usually remain smaller than all other types of OOH advertising campaigns. But, one should not be fooled by their small sizes as their repetitive placements create a lasting impact on the audience. The smaller they are in size, the shorter and precise the ad will be and the easier it can be viewed by the target audience.
It can be difficult for the audience in moving traffic to view important information in the advertisement in one go. Hence, repetitive and clear advertisements on poles will ensure the campaign message is hard to blink and miss. Not only the brand will get visibility but also enhances brand recalling (to which we will get to later). That is why mounting pole kiosks in major city roads greater impacts as such areas always consist of moving traffic and a large amount of commuters.
Running on Low Budget? No Problem!
One of the most promising aspects of pole kiosk advertising is its cost-effectiveness. Depending on the size of the city and the placement around the city, the costs of pole kiosks may vary. Advertisers cannot buy a single medium, unlike other advertising mediums. Pole kiosks come in stretches, which means advertisers need to buy all kiosks that lie in a single street or a single stretch. The prices vary according to the number of kiosks in a stretch.
But, if you as an advertiser demand the large number of kiosks, the bargaining power will be with you. Hence, the higher the demand, the lower the price per kiosk.
As an advertiser, you need to rent a pole kiosk for a minimum period of 30 days. In case you wish to extend the duration of your ad campaign, it will cost lesser per month.
Also, non-lit pole kiosks are a slightly less expensive option than backlit electric pole kiosks. Backlit electric pole kiosks come with in-inbuilt LED illumination and ads to the attractive aspect of the campaign. Although non-lit pole kiosks are best visible during day time, it still can be viewed with the help of street lights at night. On the contrary, backlit electric pole kiosks stand out from the darkness and have a better chance at catching a passer-by's attention much more effectively than during the day.
Say Yes To Total Brand Recall!
The back-to-back repetitiveness of your ad campaign will imprint your brand on audiences' minds. This type of advertising can help the customer to recall your brand when the need arises. It can also help remind the audience of their need to buy the advertised product or service, instantly making them your customer. Pole Kiosk advertising is a proven way to have a quick audience to customer conversion rate.
In this digital age, even if the customer does not have time to visit your brand's establishment, pole kiosks can also boost your online traffic as the customer can avail your services online after searching for your brand name.
Pole kiosk branding is a conventional yet impressionable way of advertising, changing the branding game for all types of businesses. Whether your venture is a brand new one or a pioneer in the industry, it can be said without a doubt that pole kiosk advertising is a vital key to boost your sales within a quick turnaround time.